NHL bowling ball bags are an excellent way to display your team spirit. You can get your team logo through BowlerX.com. Feel free to visit us online anytime to check out our huge selection of bags, balls, shoes, and accessories.
BowlerX.com is a family owned business based in Bethlehem, Pennsylvania. Since 2008, our customers have trusted us as one of the largest online bowling retailers in the country. As an authorized dealer for all the brands we offer, we stand behind every sale, and you can be sure that you will receive first quality products from us at the lowest prices.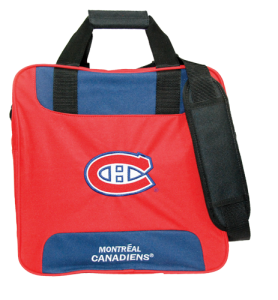 When you choose us as your bowling supply company, you can rest assured that you will receive:
FREE standard shipping
No hidden fees
No seconds or blems
Unique high-quality bowling products at the lowest prices
Simple return policy- no hassles, no questions asked
Friendly, knowledgeable customer service
Choosing the Best Bag
Bowling bags are not your average sporting bag. Before you choose your NHL bowling bag, it's important to consider what you will be carrying inside the bag as well as how the bag is constructed.
Number of Balls: It is likely, if you are a professional bowler, that you own multiple balls for a variety of shots and lane types. If you are more of a recreational bowler, you might not need a bag that accommodates three or more balls. But, since families often enjoy bowling together, not having to transport multiple bags is a good reason to opt for a larger bag.
Space: To determine which bag will best suit your needs, you should know how much space you will need in the bag. While some bags are compact and simple, others offer multiple compartments to carry your keys, phone, wallet, shoes, towels, and resin. Knowing what you need now, and might need in the future, should help you determine which size bag is best suited for you.
Wheeled or Tote: Bowling bags come in two different types, those that are on wheels and those that are carried by hand or shoulder strap. The wheeled versions are able to carry as many as six bowling bags plus additional accessories. So, if you plan on carrying a lot of equipment, we suggest getting a wheeled version of your NHL bowling bag.
Materials: One other important factor to consider is the material used to make the bags. This will determine how long your bag lasts. One ball alone can weigh as much as 16 pounds, so you will want a bag that is constructed of sturdy fabric and includes a durable handle as well.
You may find bowling bags, such as the Ebonite Players Triple Roller Bag, described as being made with 600D, 840D, or 840D/600D fabric. The "D" stands for "denier." A denier is a unit of measurement that will explain the thickness of fabrics and textiles. The soft and lightweight versions are generally constructed of a 70D to 400D range fabric. Those with a higher denier count are thicker, more durable, and sturdier.
Also, if you have to make a decision between polyvinyl and nylon fabric, we suggest that you choose nylon fabric. It is the most durable, strongest material available and can even be treated to ensure that your bag is water resistant and repellent.
When shopping for NHL bowling ball bags, whether for yourself or as a gift, you can be certain that BowlerX.com offers quality products at the lowest prices. If you need more information, or have additional questions, give us a call at 844.269.5379. Or, you can contact us online.