BowlerX.com is the place to go for equipment, supplies, and attire designed for the game of bowling – including bowling shirts that will wear well on the lanes, the streets, and even the poker table.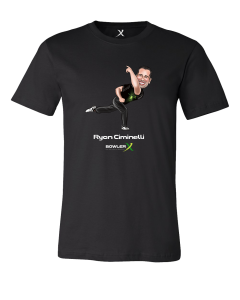 Shirts purchased from us will fit any age or body type. The sizes we sell range from Youth Small to 6XL and every stop in between, including children's, women's, and men's styles. If you find that the shirt purchased doesn't fit, return it for an exchange at no extra cost. Our return and exchange policies are simple and straightforward, requiring only that the merchandise be in original condition and double packaged for the return trip.
An authorized retailer of multiple brands of bowling goods, BowlerX.com clearly deserves our status as one of the leading online bowling superstores, offering the following brands of bowling shirts:
com
TeamFish
The Pro Collection
Hammer
Vise
900 Global
AMF
Brunswick
Columbia
DV8
Ebonite
Lord Field
Military Bowling
Motiv
Radical
Roto Grip
Storm
Track
Bowling is both a competition and a social activity. Whether you're a pro bowler, enjoy a night out with a league team, or a recreationally focused participant, dressing for the occasion turns a simple night out into an event worth remembering. Confidence can lead you to success whether that means turkeys or a second date.
When you're shopping for bowling attire, keep a few points in mind – design, identity, fit, and comfort. We offer plenty of variety of design, and we offer customization services for team and personal identity. We'll be happy to put nicknames or full names on the back of shirts, but we do request 2-4 weeks for manufacturing. When time is of the essence, we can expedite production for a premium fee.
Give your fans someone to cheer for, or make sure that your date can find you in the crowd with an easily identifiable bowling shirt.
Bowling shirts need to fit well. All bowling shirts are short sleeve and close, but not tight, fitting. Hanging material shouldn't get in the way of the swing or the ball release, but the material shouldn't be so snug that the body can't freely move. If your order doesn't fit, send it back for an exchange – hassle-free.
Modern bowling shirts are supremely comfortable. They're generally made of modern fabrics that wick away sweat and keep the body cool. You'll remain comfortable throughout the event when you buy bowling shirts on BowlerX.com.
Choose BowlerX.com for your bowling needs. We're the online bowling superstore with more than 2,000 bowling products and a reputation for stellar customer service, easy ordering, and free shipping.
Since 2010, we've been dedicated to the satisfaction of our customers. Our owner, Lee Sandt, is a PBA member and USBC Certified instructor. In addition to our online sales, we have a pro shop at Town & Country Lanes in Bethlehem, PA, where we also offer bowling instruction from Silver-Level USBC Certified trainers. The "Love of Bowling" is our ultimate inspiration and motivation.
BowlerX.com is the ideal source for your bowling shirts whether you want to wear them at the alley, on the streets, or at the poker tables. Call us at (844) 269-5379 or check out our website to find the supplies, attire, or equipment you need for your bowling endeavors.