BowlerX.com offers bowling gear for all participants, from novice to professional. We'll provide you with the best implements to throw scores on the board along with around-the-clock online shopping and free shipping.
Bowling Balls for High Performance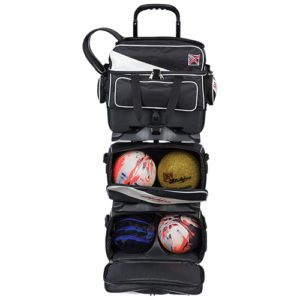 Serious, professional level bowlers do not use house balls. Professional bowlers search for balls that will hook well and perform in heavy oil conditions like those found in tournament play. The right combination of core and coverstock is an entirely personal decision.
Professional bowlers need far more than a personal bowling ball. Continue reading for a glimpse into a few of the bowling products that the pros use, and remember that they come to BowlerX.com, a company founded by a member of the PBA himself, Lee Sandt.
High-Performance Microfiber Bowling Towel
Caring for your bowling ball means caring for your game. The surface of high-performance bowling balls takes advantage of the oily surface, but it also absorbs that oil. Our quality microfiber towels will remove the oil without spreading it around the ball. Most pro bowlers will wipe their balls after every pass down the bowling lanes. We also stock bowling ball cleaners and refinishing materials like spinners and polishes.
Game-Improving Bowling Shoes
Bowling with house shoes does little to improve your score. Most of the shoes provided by the lanes are worn and designed for universal use rather than precise form. Professional, custom bowling shoes allow for a proper fit, quality soles, and assured hygiene. Shop at BowlerX.com for a pair that will improve your game and prevent injury.
Wrist Stabilizing Devices
From positioners to stabilizers and even wraps, wrist devices are widely available for bowlers. With proper functioning, these accessories prevent injury and maximize bowling performance. We also sell kinesiology tape for when pros need to play, but the pain doesn't care.
Bowling Tape
Have you ever wondered why pro bowlers use tape? It actually serves a couple of purposes: protection from injury and enhanced grip. Bowling tape for the fingers protects from blistering, and tape in the thumb hole of the ball allows bowlers to easily improve the grip. Simple solutions to common bowling problems are one of the surest signs of a serious bowler.
Bowling Luggage
Luggage for hauling all of your professional bowling paraphernalia comes as totes or rollers in a variety of capacities and designs. BowlerX.com offers bags that will hold up to three bowling balls as well as your shoes and accessories. Our roller bags go up to 6 ball capacity, and with that much weight, you'll need a quality  bag that will roll and withstand the load.
The Online Bowling Superstore
BowlerX.com offers all of these bowling supplies and more. We're authorized to deal in all of the best bowling brands, providing the finest merchandise at the lowest prices. Our inventory is vast, but when we are actually out of a product you need, we can source it at the lowest price within a few days.
Come to BowlerX.com for the following:
Free shipping
Hassle-free returns, exchanges, and refunds
Over 2,000 high-end products
No seconds or blems
Friendly and knowledgeable customer support
For all of the best professional bowling gear, come to BowlerX.com. We offer all of the best products and expertly provided guidance. To learn more or to place an order, call today at (844) 269-5379.