Great bowling ball bags, like those from Radical, transport your shoes, balls, and other accessories safely to and from the lanes. You can get the latest bags released from Radical from the experts at BowlerX.com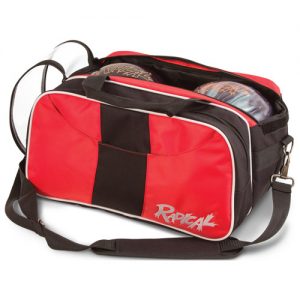 BowlerX.com is an authorized dealer for Radical, Brunswick, Columbia, Ebonite, Dexter, Motiv, Hammer, Roto Grip, DV8, Storm, Track, and other brands and we stand behind every sale. We are rated #1 for pricing, customer service, and product knowledge. When you shop with us, you will receive first quality products at the lowest prices. And, we always offer FREE standard shipping and no hidden fees!
About Radical Products
The Radical brand is the invention of Phil Cardinale and Mo Pinel. They wanted to produce bags and balls that were specifically designed for performance. Since 2013, they have been working to change the game of bowling.
Cardinale and pinel claim to be bowling junkies and incorporate physics in their designs. They have patents and knowledge that they believe will change how we bowl. They are accomplishing this by adding advanced layout techniques and improved technologies to ensure their products are top-of-the-line.
Choose a Radical Bowling Bag
There are several options for Radical bowling bags on our BowlerX.com site. It is essential that you know what you are looking for before choosing the bag that will best suit your bowling needs. We offer four options for you:
Radical Bowling Accessory Bag. This bag features a 600D/840 fabric with a zippered front compartment. There are additional ¼ zippered and ¾ zippered storage areas as well. The larger zippered section has a segmented area. And the Radical logo is embroidered on the side. This bag comes with a 2-year limited warranty.
Radical Double Tote with Shoe Pouch. If you are looking for a bag to hold 2 balls, this one offers you a transparent ball compartment. It comes with a removable padded shoulder strap and a hook and loop cushioned handle which is wrapped in 600D fabric. And, you can hold shoes up to size 15 in it as well. There's a one-year warranty on this bag.
Radical Triple Tote. This tote is designed for balls. It will hold three of them but there is no shoe compartment. It is constructed of 600D/840D fabric with a transparent top view. You will appreciate the adjustable pull strap and rubber handle for comfort. It is a perfect design for tournament and travel players. It also comes with a one-year warranty.
Radical Triple Roller. This is the mother of all bowling bags! It comes with a premium flush retractable handle system and is powered by 5-inch urethane wheels. There are three large accessory pockets on the sides and a separate compartment for your shoes that can fit up to size 15. There's also a large top pocket for all your accessories. And, impressively, this bag offers you a 5-year limited warranty.
Our bags can include an optional 1-year free replacement warranty for a minimal fee. That helps us show you how devoted we are to the products we sell!
If you are in the market for Radical bowling ball bags, BowlerX.com should be the first place you look. And, if you have questions, you can always give us a call at 844.269.5379 or contact us online!