Been looking for a great deal on Roto Grip bowling ball bags? Look no further than BowlerX.com! You can get the latest bags released by Roto Grip from the experts at BowlerX.com
BowlerX.com is a family owned business based in Bethlehem, Pennsylvania. We are rated #1 for pricing, product knowledge, and customer service. When you shop with us, you can be sure that you will receive top-of-the-line products from major brands like Roto Grip, Hammer, Brunswick, Columbia, Dexter, DV8, Ebonite, Lord Field, Motiv, Storm, and Track. And, we will provide you with excellent prices as well!
About Roto Grip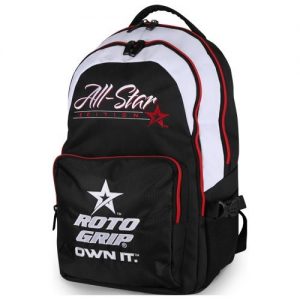 Founded in 1955 by the Yetito family, Roto Grip has been an innovator in this industry. But things began to go downhill in the early 1990s so, in 1997, Storm Products Incorporated purchased the brand to put Roto Grip back on the map.
By 2006, Storm and Roto Grip had merged their customer service and sales departments in hopes of making more domestic sales. Since then, Roto Grip balls have been making serious waves. Their goal is to redefine the game with their innovative equipment, and BowlerX.com is a proud purveyor of their products!
Choose a Roto Grip Bowling Bag
At BowlerX.com we offer you 13 options when it comes to Roto Grip bags. This might make the choice a little daunting, so we want to share a few of our experts' favorites with you here to simplify the decision-making process. Here are our top choices:
Roto Grip Carry-All Double Tote Purple. Constructed of 600D polyvinyl fabric, with a transparent, "easy view" top, and reinforced zippers and stitching, this is an excellent, inexpensive option. It has a padded ball compartment and will hold up to a size 13 men's shoe.
Roto Grip All Star Edition Backpack. With easy carry top handles and adjustable shoulder straps this backpack is a decent option for the weekend bowler. It has three separate compartments plus interior pockets for organizing. And you can enjoy the dual-side mesh water bottle pockets as well.
Roto Grip 3 Ball All Star Edition Purple Carryall Tote. The strong metal hardware and Velcro attached shoe bag add to the versatility of this bag. It has a recessed wheel/axle system and a padded ball area. Made out of 600D polyvinyl fabric the large Roto Grip zipper pulls provide for easy opening. And, you can conceal the fabric handle for easy transportation.
Roto Grip 3 Ball All Star Edition Purple Travel Tote. This bag weighs less than five pounds! It has reinforced zippers and is constructed of 600D polyvinyl fabric. There is a clear view top for easy viewing of your bowling balls and the tighter construction promotes balance while in transit.
Roto Grip All Star Edition Purple Double Roller. Made with a heavy-duty frame and hardware, reinforced zippers and 5" wheels for increased mobility and stability, this bag will take you places! It holds up to men's size 15 shoes and has an oversized side pocket for extra storage. Plus, the locking telescopic handle with push button release adds to the ease of use.
Feel free to consider the wide selection of top-quality Roto Grip bowling ball bags at BowlerX.com. If you need more information, give us a call at 844.269.5379 or contact us online.