The benefit of bowling bags is that they transport bowling balls, shoes, and other accessories safely to and from the lanes. You can get the latest Storm bowling ball bags from the experts at BowlerX.com.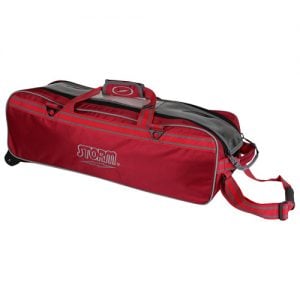 BowlerX.com is an authorized dealer for Storm, Brunswick, Track, Roto Grip, Hammer, Motiv, Dexter, Ebonite, DV8, Columbia 300, and other brands and we stand behind every sale. Our family owned business is rated #1 for pricing, product knowledge, and customer service. When you shop with us, you will receive first quality products at the lowest prices.
About Storm
Storm believes in education. They see it as a way to lay down a personal and professional foundation. They desire to be innovative leaders in the bowling industry. As such, they put an intentional focus on growth, performance, and education.
Ultimately, they hope to grow the sport of bowling. They see craftsmanship, innovation, and product performance as the method to achieve these goals. They want their customers to be enthusiasts. They hope that their products will give people a positive experience.
Choose a Storm Bowling Ball Bag
Storm is an industry leader in bags and balls. That is why, at BowlerX.com, we carry a plethora of options for the Storm brand enthusiast. It would be impossible to share with you all the options available, but we would like to point out some of our favorite Storm bowling bag options. These include:
Storm 1-Ball Spare Kit Single Tote Black. Made of 600D polyvinyl fabric, with a 2-color embroidered logo and reinforced zippers, this is a great starter bag! There is a new adjustable Velcro closure to provide better attachment to your telescoping handle bags and an additional zippered accessory storage compartment.
Storm 2 Ball Tote Deluxe Charcoal Plaid/Grey/Black. With an easy view, transparent back, and additional accessory storage compartment, this is the next step in Storm bags. It has a non-slip shoulder strap with reinforced stitching and a large oval bolt zipper. Plus, it comes with a 1-year limited warranty.
Storm Rolling Thunder 2-Ball Roller Checkered Black/Gold. Constructed with a heavy-duty frame and hardware and 2" super soft, clear-gum wheels, with wide tires for ultimate traction, this bag will get you where you need to go. And, there's a large shoe compartment that holds shoes up to men's size 15! With a forged steel axle and wide base, this bag will be incredibly stable no matter the terrain that leads you to your next game.
Storm Streamline 4-Ball Roller Bag Navy/Grey/Yellow. This product has a side loading base with transparent window for easy access to your equipment. A shoe compartment is included as well as a detachable 2-ball deluxe bag with an adjustable non-slip shoulder strap. The large 4" wheels provide increased stability and mobility and the locking telescopic handle with grip release makes it easy to maneuver.
Storm Rolling Thunder 6-Ball Roller Checkered Black/Gold. Designed for the professional bowler, this bag holds 6 balls! If you crave competition, you will never have to leave a ball at home again. With a side loading midsection and front-loading base for easy access to equipment, this is the pinnacle of bag luxury. The 5" wheels guarantee you can get wherever you are going, and you won't have to purchase an additional bag for your shoes!
When you consider the wide selection of Storm bowling bags at BowlerX.com it might be hard to make the right choice. Don't worry, just give our experts a call at 844.269.5379, or contact us online for additional advice!