Introduce some thunder and lightning to your bowling game with Storm bowling products purchased at BowlerX.com. From scented bowling balls to bags and other accessories, Storm is a major brand worthy of a second look.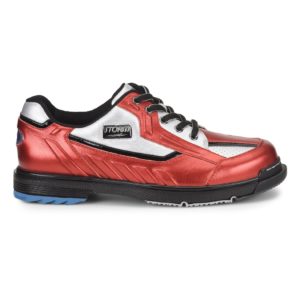 With first-rate customer service, a diverse and full inventory, and free shipping combined with hassle-free returns, BowlerX.com puts the love of bowling first. We're able to provide the very best products related to bowling for the lowest prices.
Bring the Storm to Your Bowling Game
Made mainly in Brigham City, Utah, with facilities also in California and Texas, Storm bowling balls bring performance for bowlers of all skill levels from beginner to professional.
Storm bowling products have a global reach, producing 500k balls per year, shipping to 70 countries worldwide. Within the Storm umbrella, you'll find Roto Grip and 900 Global bowling brands as well.
Storm bowling balls provide high-performance for all degrees of bowlers.
For advanced bowlers, consider the upcoming Storm Trend 2 Bowling Ball. With a hybrid reactive coverstock and a symmetrical core, this ball provides a good length and strong backend, and the scent of orange meringue complements the abstract orange design.
The Storm Tropical Surge bowling ball provides intermediate bowlers with a value performance tool. It has a pearl reactive coverstock and a symmetrical core with slightly angled backend on dry lanes.
Those just beginning their bowling journey will find the Storm Ice Storm bowling ball useful. It's a polyester ball with a symmetrical core for straight rolls down the lanes.
Having storm bowling gear will have you in the bowling alley, playing regularly and improving each time. Before you know it, you'll be a serious bowler with a passion for the sport.
Ready to Calculate Your Handicap?
Once you've been bowling for a bit, the time will come to establish your bowling average. The average will be a tabulated mean of all of your bowling games played. Tracking your score over time allows you to see how your skill is progressing.
The calculation requires two things: the total of the games you've played and the total sum of all the points you've scored in those games. Keep tracking because this number will continue to change as you play more games. Divide the number of points by the total points to get your scoring average.
A bowling handicap is used to pit bowlers of equal skill against each other during competition. This calculation will require that you know the basis score and percentage factor.
The basis score depends on the league's highest player average, usually between 200-220. The percentage can also vary, usually between 80-90%. To get these numbers, check with your league's record keeper.
Once you have these numbers, subtract your average score from the basis score. Then, multiply the difference by the percentage factor. The product will be your handicap!
Knowing your handicap is useful in scoring league competitions. You will add your handicap to your actual points in a game to figure your adjusted score.
If you've reached the level of bowling that you know your handicap and use it to figure your adjusted points, Storm bowling products can improve your numbers even more. If you'd like bowling queries answered, help with purchase decisions, or to place an order, BowlerX.com is the perfect resource for you. Contact us online or via phone at (844) 269-5379.