Looking for Storm men's bowling shoes? BowlerX.com offers exceptional prices and FREE shipping!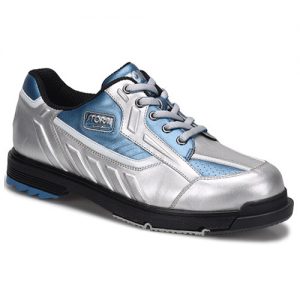 BowlerX.com is based in Bethlehem, Pennsylvania and rated #1 for customer service, product knowledge and pricing. When you are shopping for bowling products, you can be sure that you will receive first quality products at affordable prices.
The BowlerX.com Difference
Trusted since 2008 as one of the largest online bowling retailers in the U.S.;
More than 2,000 top-quality products at the lowest prices;
Authorized dealer for all of the brands we sell;
We stand behind every sale;
You will never receive seconds or blems;
Easy online ordering;
No hidden fees;
FAST & FREE standard ground shipping;
Simple return policy – no hassles, no questions asked;
Friendly, knowledgeable customer service.
Although we maintain a large in-stock inventory, there will be times when the most popular products will fly off the shelves. If we don't have it now, we can get it for you fast!
About Storm Men's Bowling Shoes
Storm Bowling Products, headquartered in Brigham City, UT, released their first bowling ball in the 1990s and has been going strong ever since. Today, Storm balls, bags, shoes, and accessories are used by many professional bowlers. Their selection of entry level and performance shoes in many different styles and colors includes:
Storm Bill Men's Bowling Shoes – These sleek-looking Storm shoes feature universal slide soles and the DEX-LITE EVA outsole for light weight. They are also fully fabric-lined and have side vents for excellent breathability. The shoes have defined rubber horseshoe heels, removable footbeds, and an improved slide rite microfiber sole on both shoes. The athletic-style Bill is a great value and perfect for any level of bowler.
Storm SP3 Men's Bowling Shoes – The SP3 takes bowling shoes to a whole new level. This is the first Storm shoe to feature Toehold Hyperflex Engineering (THE) technology that increases the flexibility and durability of the shoe and ensures proper alignment. The list of high performance features it offers is long and leaves nothing out. Enjoy the softest full-grain leather uppers, a molded midsole with classic raised shank and heel, and the totally interchangeable sole and heel construction. This shoe is right or left convertible.
Storm Signature BOA Men's Bowling Shoes – If you're shopping for high-performance shoes, you may appreciate Storm's addition of a bowling shoe with a BOA lacing system. No more tying and untying shoe laces! Just slip them on and twist the dial for a comfortable and secure fit. The Signature BOA delivers the revolutionary patented SST 8 technology to bowlers who want to stay at the top of their game. The shoes are right or left convertible and feature Goodyear replaceable rubber traction soles and perforated uppers for signature breathability.
For Storm men's bowling shoes or shoes from other top brands, visit BowlerX.com, where you'll find a huge selection.  If you need help making a decision or need more information about any of the products we sell, give us a call at 844.269.5379 or contact us online.