Buy Storm women's bowling shoes from BowlerX.com, an online retailer you can trust! We offer a huge selection of products and exceptional service.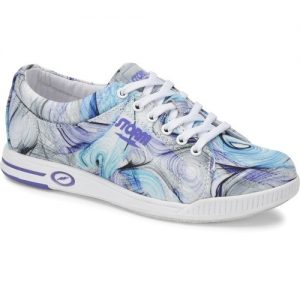 BowlerX.com is the online bowling superstore. Based in Bethlehem, Pennsylvania, we are rated #1 for customer service, product knowledge, and pricing. When you are shopping for bowling products, whether for yourself or for gifts, you will find first quality products at the lowest prices.
About Storm Bowling Shoes
Headquartered in Brigham City, UT, Storm Bowling Products released their first bowling ball in the 1990s and has been going strong ever since. Today, Storm balls, bags, shoes, and accessories are used by many professional bowlers. Their selection of entry-level and performance shoes for women in many different styles and colors includes:
Storm Skye Bowling Shoes:  When you are looking for a comfortable, stylish, and durable pair of bowling shoes, especially if you have narrow feet, the Storm Skye is a great choice. The interior is lined with a soft material that will keep your feet from becoming irritated. The lace-up closure provides a customized fit. The padded tongue and collar keep your ankles supported. And a non-marking rubber outsole gives you the traction you need for sliding and braking. Thanks to a sporty, multi-color design, Storm Skye shoes will also go with many different outfits.
Storm Galaxy Bowling Shoes: These shoes have a universal slide sole that is designed for use by left- and right-handers and will help you make your approach with confidence. Storm Galaxy shoes provide excellent support, comfort and traction. The lightweight and cool cotton canvas upper allows air to pass through easily, keeping your feet cool and comfortable and preventing foot fatigue. Non-marking rubber outsoles provide good balance. The multi-color shoes are also stylish and will attract attention in the bowling alley!
Shoe Accessories
Whether you are a beginner or an expert bowler, there are accessories available that can help keep your shoes in top shape, including:
Shoe Covers – Shoe covers protect bowling shoes from moisture, gum and food, inside and outside of the bowling center. They slip-on over the shoes and come in many different styles, colors, and patterns.
Shoe Brushes – The stiff, rugged brass bristles of shoe brushes are designed to get the sliding sole of your bowling shoes back into top condition for when you hit the lanes. They are made to fit easily inside your bowling bag.
Socks – You have to wear socks with any bowling shoes you rent, but consider wearing thick, absorbent socks with your own shoes, too. Socks provide some cushioning to prevent your feet from rubbing directly against the lining of the shoe, and they also help to keep them dry.
Shoe Bags – com also carries convenient bowling bag add-ons. Customers appreciate the wide variety of bowling shoe bags we carry in different styles, sizes, and colors are among their favorites. It's important to keep your bowling shoes clean to ensure a consistent slide. Protect them with a bag that you may be able to clip on to your tote bag.
If you need more information about Storm women's bowling shoes or have other questions for our team, give BowlerX.com a call at 844.269.5379 or contact us online.