New ten-pin bowlers and experienced professionals alike appreciate bowling gifts for Christmas, birthdays, and other special occasions. The experts at BowlerX.com can help you find something the man, woman or child on your gift list will love!
BowlerX.com, based in Bethlehem, PA, is rated #1 for customer service, product knowledge and pricing. When you shop in our online store, you can be sure that you will receive first quality products at affordable prices.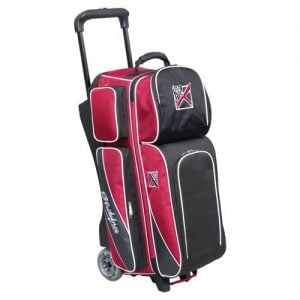 BowlerX.com is an authorized dealer for all of the brands we sell, and we stand behind every sale. We offer:
Trusted since 2008 as one of the largest online bowling retailers in the U.S.;
2,000+ top-quality products at the lowest prices;
No seconds or blems;
Easy online ordering;
FAST & FREE standard ground shipping;
No hidden fees;
Simple return policy – no hassles, no questions asked;
Friendly, knowledgeable customer service.
Ten-Pin Bowling
Ten-pin bowling is a type of bowling in which an individual rolls a bowling ball down a wood or synthetic lane toward 10 pins positioned in a triangular pattern at the far end of the lane. The objective is to knock down all 10 pins on the first roll of the ball (a strike), or failing that, on the second roll (a spare).
In most parts of the world, the game is commonly referred to simply as "bowling". In Canada and New England, the game is specifically called "ten-pin bowling" or "big-ball bowling" to distinguish it from sports with smaller balls, such as candlepin bowling, duckpin bowling, and five-pin bowling.
Popular Bowling Gifts
Bowling Balls
BowlerX.com offers a wide range of bowling balls for adults and kids, including entry level bowling balls in great colors and a wide range of weights, top performance balls used by professionals, and custom bowling balls.
For beginners: The best bowling balls for beginners are typically inexpensive plastic cover or entry-level polyurethane cover bowling balls that are available in a wide range of colors and weights ranging from 6 to 16 pounds.
For experienced bowlers: An experienced bowler will prefer a high-performance ball that has a reactive resin additive in the urethane cover. These balls offer the latest available technology in symmetric and asymmetric cores and have medium to heavy hook potential.
Bowling Bags
For men: If your husband, son, father, boyfriend, or colleague is a sports fan, he will appreciate the New York Yankees Single Tote or the Green Bay Packers NFL Triple Roller, both of which have room for shoes and accessories.
For women: If your wife, daughter, mother or girlfriend is more than just an occasional bowler, she would probably love a 3-ball roller with shoe storage and extra compartments, such as the premium purple/yellow Brunswick Crown Deluxe Triple Roller.
For kids: The young bowler on your list would probably get lots of use from the Ebonite Eclipse Single Roller which will accommodate up to size 13 shoes and accessories and comes with a 5-year manufacturer's warranty.
Buying ten-pin bowling gifts can be challenging, but BowlerX.com, the online bowling superstore, can help you find the ideal gift for any holiday, event or special occasion. For more suggestions, give our friendly, knowledgeable team a call at 844.269.5379 or contact us online.