You can stop your search for Track bowling ball bags at BowlerX.com. Your bowling bag will help you transport your balls, shoes, and other accessories safely to and from the lanes. Get the latest Track bags from us!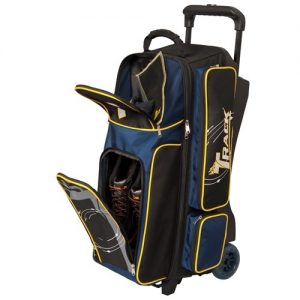 BowlerX.com is a family owned business based in Bethlehem, Pennsylvania. We are rated #1 in customer service, pricing, and product knowledge. When you shop with us you can be sure you will receive top of the line products from major brands like Track, Hammer, Brunswick, Columbia, Dexter, DV8, Lord Field, Motiv, Roto Grip, and Storm at excellent prices.
About Track
Founded as Star Track Bowling back in the 1970s, Track Bowling wanted to be at the cutting edge of bowling technology. But, in February of 2007, Track Bowling was acquired by Ebonite International. They are now part of the Ebonite family of brands.
Though Track's location has changed from Solon, Ohio to Hopkinsville, Kentucky, they are still pushing to be leaders in developing technologies. They claim to be a different brand for a different kind of bowler. They believe that engineering is the key to great design.
Choose a Track Bowling Ball Bag
Track Bowling's goal is to ensure that their customers have access to the best bags and balls they can produce. At BowlerX.com we sell several different Track bowling ball bag options, including:
Track Premium Backpack Black/Navy/Yellow. If you are always on the go, this is the bag for you! It can store accessories as well as shoes. This bag is made of 600D/1680D fabric. With YKK luggage zippers and a heavy-duty grab handle this bag is worthwhile. There are multiple enclosed accessory storage pockets in the front and a laptop/book storage area as well. With adjustable shoulder straps and a large space between the shoe and laptop compartment, you can take this bag anywhere.
Track Premium Slim Triple Roller Black/Navy/Yellow. This bag includes 3" inline wheels and a lightweight molded base for stability. The premium bag includes luggage zippers, an adjustable strap, easy end pick-up handles and a clear "see-thru" top. Constructed of 600D/1680D fabric and supported by durable in-line skate wheels, this is a versatile and sturdy bag option that includes a five-year limited warranty!
Track Premium Triple Roller Black/Navy/Yellow. This heavy-duty bag features 5" x 2" ball bearing wheels. There's an extendable and lockable handle as well as molded front and rear lift handles. Add to that the three large accessory pockets and vented shoe storage that holds shoes up to a men's size 15, and this bag has everything you could possibly need. It has a waterproof PVC backing material and molded ABS interior ball cups surrounded by foam padding and keeper straps. Don't forget the heavy duty molded Virgin ABS base with wide stabilized support and you can rest assured that this bag will go wherever you need it to! Plus, there's a five-year manufacturer's warranty with it!
Track bowling ball bags are an excellent option for bowlers of all levels. And, you can get them at great prices from BowlerX.com. Feel free to call us at 844.269.5379 if you have any questions. Or, you can always contact us online!