When shopping for Turbo bowling ball bags for yourself or your favorite bowling enthusiast, you can be certain that BowlerX.com offers top-quality products at the best prices.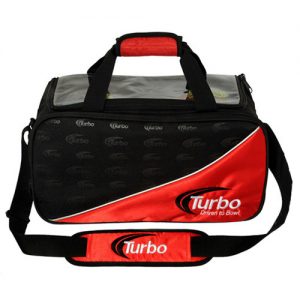 In addition to bowling ball totes, backpacks, and roller bags, BowlerX.com is an authorized dealer for AMF, Brunswick, Columbia, DV8, Ebonite, Hammer, Motiv, Radical, Roto Grip, Storm, Turbo, and many other brands. We are rated #1 for pricing, product knowledge, and customer service. When you shop with us, you will receive first quality products, FREE standard shipping, and no hidden fees!
About Turbo Bowling Supplies
Turbo is a company that is respected worldwide and has been in business since 1989. They are an innovative company, committed to improving the sport of bowling and giving back to the community. David Bernhardt is the founder, and his company is known for developing the original 2-N-1 Grip. Turbo provides bowlers with top quality products and accessories.
How to Choose a Durable Turbo Bowling Ball Bag
Turbo bowling ball bags are available in many sizes and styles and are designed to hold from 1 to 3 bowling balls. Many of their bags include separate compartments or pockets to accommodate your other bowling accessories.
The simplest bowling ball bags will look a lot like a normal backpack. One of these is the Turbo Shuttle Backpack which comes in a variety of colors. Backpacks free up your hands to carry your additional bowling needs, like shoes, keys, etc.
Don't forget that bowling ball bags are not like ordinary sports bags. As you research the bags you are interested in, you will find that their construction is the most important aspect to consider. The fabric they are made of will determine how long the bags will last and how much it will cost.
Since your bowling ball alone could weigh as much as 16 pounds, you will want a bag that has strong and durable enough fabric to hold that kind of weight. And, as you look deeper into choosing a bag, you will see fabric rated as 600D. The "D" stands for "denier" which is a unit of measurement that describes the thickness of the fiber's individual threads. Fabrics that fall in the range between 70D and 400D are softer and relatively lightweight. Those that come with a higher than 600D rating are extremely durable, thicker, and sturdier.
Additionally, a well-made bag will be well-balanced. When a ball's weight is evenly distributed it will seem a lot lighter than it actually is. So, look for a bowling ball bag that has a heavy-duty frame and hardware. We suggest looking for bags with reinforced or double zippers, steel axles, and larger wheels for increased stability and mobility.
While the Turbo Pursuit Slim Triple Tote does not have large wheels, it is made of some incredibly durable 1680D nylon fabric. It offers a clear "see thru" top and only weighs 4 lbs. Like Turbo's other products, this bag comes in a variety of colors to meet all your team branding needs.
So, if you are looking for the best Turbo bowling ball bags, whether you are headed to practice or league night, you can get them at BowlerX.com where we can help you make the best choice for your needs. Give us a call at 844.269.5379 or contact us online to explore your options!