Visit the BowlerX.com website and shop 24 hours a day, 365 days a year, for Vise bowling ball bags and other bowling accessories and equipment for men, women, and children.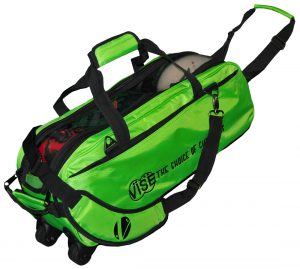 Since 2008, customers have been trusting BowlerX.com as one of the largest online bowling retailers in the country. In fact, our customers have rated us #1 for pricing, product knowledge, and customer service. As an authorized dealer for all the brands we offer, we stand behind every sale. You can be sure that when you order from us you will receive first quality products at the lowest prices.
We carry bowling accessories, bowling shoes, bowling balls, and bowling bags from the greatest brands including Vise, 900 Global, Brunswick, Columbia 300, Ebonite, Hammer, KR Strikeforce, Motiv, Radical, Roto Grip, Storm, Track, and others. If you love free standard shipping, no hidden fees, and low prices, look no further than BowlerX.com!
About Vise Bowling Bags
Established in 1983, Vise offers bags for bowlers of all abilities. They manufacture high performance, durable, and multi-functional bags.
You can carry your gear around in style when you choose from one of our best-selling Vise bowling ball bags. Vise bowling bags are available as single, double, and triple totes.
Tote bowling bags take up little room because they are compactly designed. They can fit easily into your packed car or under a seat. Featuring padded compartments for your balls, as well as cushioned handles and non-slip shoulder straps, you can carry these bags as comfortably as you would a duffle bag.
A good choice for beginners is the Vise Clear Top Double Bowling Ball Tote. Every one of their bags is tested with 200lbs of force to ensure proper durability. This tote includes dual zipper pulls for fast and easy access. There is reinforced stitching and a five-year limited warranty.
If you are a little bit above a beginner and like to ensure that you have multiple ball options with you on the go, you might want to consider the Vise Clear Top Triple Bowling Ball Tote. It weighs only 4.2 pounds but is made of 1680D heavy duty fabric. Like the previous bag we mentioned, it also has dual zippers for easy access and a dual adjustable, detachable, padded shoulder strap. And, that five-year warranty offers you a good deal of confidence in the product you are purchasing.
Vise bowling bags are attachable to one another. So, if you need to carry your shoes with you, purchasing the Vise Detachable Triple Tote Bowling Shoe Bag will go great with the Vise Clear Top Triple Bowling Ball Tote. You can also add the Vise Accessory Single Bag to ensure that you have everything you need with you when you head to the lanes.
Transport all of your gear in style with Vise bowling ball bags from BowlerX.com. They are available in a variety of colors and styles for everyone from professionals to newbies. If you need more information, give our team of expert bowlers a call at 844.269.5379. Or you can contact us online. Remember, shipping is FREE and FAST, with no hidden fees!