If you're looking for Vise bowling shirts, or any of the more than 2,000 other items we carry from the best manufacturers in the business, you can count on BowlerX.com. We've been the go-to source for bowlers of all skill levels for the last decade, and we'll do whatever it takes to earn your business as well. When you buy from us, you can rest assured that we only carry top-quality items, and we proudly stand behind each and every item you find on our site.
BowlerX.com – THE Source for All Things Bowling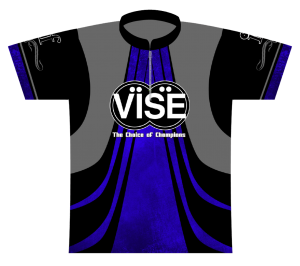 Headquartered in Bethlehem, PA, BowlerX.com carries just about anything you can think of that has to do with the game we love. Whether you're looking for shirts, grips, joint supports, balls, shoes or anything else, you'll be able to count on us to have it. Our selection is unmatched, as is our reputation for customer service.
Our founder, Lee Sandt, is an avid bowler – on the league level as well as the tournament level. We sponsor many bowling events across the United States, including the PBA and PWBA Championships. We also have a pro shop inside Bethlehem's Town & Country Lanes, and we also offer coaching services.
We are extremely proud to carry products from Vise as well as others that are synonymous with the game of bowling. These include Brunswick, Storm, Columbia, Ebonite, Motiv and many, many others. Not only are our products made from the highest quality materials, they're also very affordable.
Feel free to get in touch with us if you'd like to learn more about any of the items we carry. All of our staff members are passionate about making sure all of our customers are completely satisfied at all times. We're also extremely knowledgeable, and will be more than happy to answer any questions you may have.
Why Do Bowling Shirts Remain So Popular?
A bowling shirt is a fantastic way to show off your style. When you think of this type of shirt, the first thing that comes to mind is usually a box-cut, button-down shirt with a pocket on the front. You might even think of a cool logo or someone's name in cursive on the back.
But bowling shirts have changed a lot since the 1950s, when they first became popular among teenagers. They wore them all over the place – at dances, at football games, at the malt shop, and more. Older shirts were typically made of polyester and cotton, with team names and logos emblazoned on both sides. They not only looked great, they also allowed for freedom of movement while playing a game.
Bowling shirts are more streamlined today. They're still designed for performance, but they also still help bowlers look their best. Instead of button-down fronts, they have zippers and come in bold colors.
One thing hasn't changed, however. Bowling shirts are still a great way to show your team pride, as well as get your team's sponsor some much-deserved notoriety. The shirts we carry at BowlerX.com are customizable – your options are limited only to your imagination.
We'd Love to Hear From You
Please don't hesitate to reach out to BowlerX.com, whether you're looking for Vise bowling shirts are anything else from our vast selection of products. Give us a call at 844.269.5379 or contact us online.