Ever wondered, "What is a thumb slug in a bowling ball?" Let the experts at BowlerX.com help you understand the answer!
A Thumb Slug Education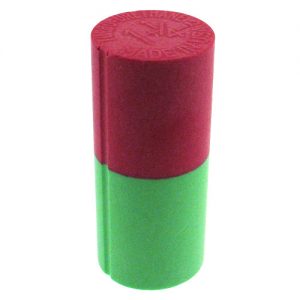 No doubt you have seen that there are some bowlers that swear by thumb slugs and others that think there's no reason to use them. But perhaps, you don't even know what a thumb slug is since that's why you're here. So, here's a short thumb slug education:
Thumb slugs are actually known by a number of names including: inserts, solids, and of course, slugs. No matter what you call them, they are all the same. Typically made of vinyl or urethane, they are a solid piece of material that is placed in the thumb hole of your bowling ball. Then they are drilled through to create the perfect size fit for your thumb.
But why would anybody want something else inside their already perfectly fitting thumb hole?
Well, the real answer is that many people don't find the fit comfortable. A bowling ball is composed of several layers of different material. There is the core, weight block, and coverstock all of which have different textures and densities. When a pro drills your finger holes for you, it exposes these variable textures. While some people are not bothered by it, others find that the inconsistencies they feel make their releases uncomfortable and not easily achieved.
So, people utilize thumb slugs as a means of regulating those inconsistencies. Once a hole is drilled, without a thumb slug, it is really hard to sand the inner materials into a perfect seamless feel. Adding the slug, because of its construction material, makes this a far simpler process and increases the comfort you have while bowling.
BowlerX.com Slug Options
Now that you have a greater understanding of the purpose of a thumb slug, you might decide that it's what you need to improve your game and your enjoyment of it. So, here are some of the options we provide on our site:
Vise Vinyl Bowling Thumb Slugs– These are soft and easy to carve. They come in a variety of colors and sizes. Their hardness rating is 45 with a 2 5/8" length.
Turbo Duo Urethane Thumb Slug– Many pros believe these are the easiest to cut, carve, and finish. Made of 100% urethane, the quick release and consistent feel these achieve is appreciated by bowlers over many other brands.
Vise Dual Easy Urethane Bowling Thumb Slugs– The hardness of these slugs is rated at 75. They are available in multiple colors and sizes and are easy to carve leaving you with a quick, clean release.
BowlerX.com is based in Bethlehem, Pennsylvania and rated #1 for customer service, product knowledge, and pricing. When you are shopping for bowling products, you can be sure that you will receive first quality products at affordable prices. We are an authorized dealer for all of the brands we sell and we will stand behind every sale.
Now that you have had your question, "what is a thumb slug in a bowling ball?" answered, we hope you will visit BowlerX.com for all your bowling questions and supply needs. You can contact us online or give us a call at 844.269.5379.