Determining where to buy bowling bags isn't as hard as you think. BowlerX.com is exactly where you want to be. We are one of the largest online bowling supply retailers in the US.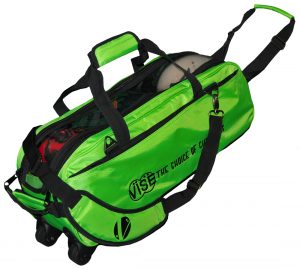 When shopping for bowling products, we understand that you have many choices, so we strive to offer a large selection and we stand behind every sale. BowlerX.com is a family of experienced bowlers who are passionate about the sport and knowledgeable about the products we offer. We are always happy to answer any questions you may have.
We offer our customers:
Friendly, knowledgeable customer service
Simple return policies, no hassles and no questions asked
No hidden fees
FREE standard shipping
Easy online ordering
No seconds or blems
Unique, high-quality bowling products at the lowest prices
BowlerX also has a Pro Shop located at Town & Country Lanes in Bethlehem, PA, which is open most weekday evenings and on Saturdays. We welcome you to drop in if you are in the area!
Great Bowling Ball Bag Brands
Bowling ball bags are not like your average sports bag. They have to be made of very durable material since they are designed to hold balls that can weigh as much as 16 pounds each. BowlerX.com is an authorized dealer for AMF, Brunswick, Columbia, Dexter, DV8, Ebonite, Hammer, Motiv, Radical, Roto Grip, Storm, Track, and many other major brands.
Track. Originally Star Track Bowling, and founded in the 1970s, Track's goal has been to manufacture balls for the bowler who wants to be on the cutting edge of technology. They take that same mentality when they create their bags. If you are just looking for an accessory bag, the Track Premium Backpack has everything you need. But when it comes to carrying multiple balls you should consider either the Track Premium Slim Triple Roller or the Track Premium Triple Roller to get the job done.
Turbo. Respected worldwide, Turbo has been in business since 1989. They are an innovative company committed to improving the sport of bowling and giving back to the community. Turbo bags are available in many sizes and styles and are designed to hold from 1 to 3 bowling balls. The simplest is the Turbo Shuttle Backpack which comes in a variety of colors. But those of you looking for more space might prefer the Turbo Pursuit Slim Triple Tote which offers a clear "see thru" top and only weighs 4 lbs.
Vise. Established in 1983, Vise offers bags for bowlers of all abilities. They manufacture high performance, durable, and multi-functional bags. Vise bowling bags are available as single, double, and triple totes. A good choice for beginners is the Vise Clear Top Double Bowling Ball Tote. If you are a little bit above a beginner and like to ensure that you have multiple ball options with you on the go, you might want to consider the Vise Clear Top Triple Bowling Ball Tote. It weighs only 4.2 pounds but is made of 1680D heavy duty fabric.
Now that you know BowlerX.com is where to buy bowling bags, we hope you will visit us online to peruse our large selection of balls, bags, and accessories. And, if you need additional help don't hesitate to call us at 844.269.5379.