Wondering where to buy bowling shoes? Look no further than BowlerX. We have the widest online selection of bowling shoes for all bowlers, no matter their skill level, at the lowest prices.
BowlerX.com is an authorized dealer for AMF, Brunswick, Columbia, DV8, Ebonite, Hammer, Motiv, Radical, Roto Grip, Storm, Track, and other brands. We are rated #1 for customer service, product knowledge, and pricing. We also carry a wide range of must-have bowling equipment, including a huge selection of bowling balls, bowling gloves, bowling tape, towels, ball cleaners and polish, grip sacks, wrist braces and supports, and many other products.
Why Have Your Own Shoes?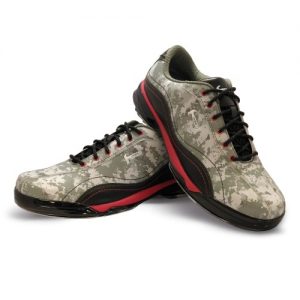 Since you are searching for places to buy bowling shoes, you may already understand why you should have your own shoes. But in case you are still not really certain why that's important, our experts would like to share some truth with you:
Having the correct shoes can almost immediately improve your accuracy.
Bowling pros know that in order for the "power step" to be efficient, you need the appropriate shoe.
House shoes, the kinds you rent at the lanes, lack the support necessary for anyone who is more than a casual bowler.
Buying your own bowling shoe means you can customize your comfort.
Bowling shoes come in different widths to adapt to individual needs.
Athletic bowling shoes are fine for people that stick to the same lane and don't bowl more than once a week.
Performance shoes are designed for advanced bowlers. They are fully customizable.
Bowling can cause injuries to the feet therefore, adding custom orthotics is advisable.
With these key truths in mind, we will further explain the value of owning a pair of shoes instead of renting them at the lanes.
Because bowling shoes come from a host of different countries, it's important to choose your size carefully. Different manufacturers have different sizing standards. It might not be a bad idea to visit our pro shop prior to ordering online. But knowing what kind of shoe you want is essential.
Athletic style bowling shoes are designed like running shoes. They fit better than the house shoes and will provide you with more traction and support than those at the lanes. They can help you maintain your balance because they minimize your foot's ability to move via their extra padding supports.
However, quality shoes will provide you with two important elements: traction for your "power step," and an adjustable slide length. The athletic version will typically provide you with a sliding sole and a brake heel. While performance shoes will include one slide shoe and one brake shoe.
So, why is this a big deal? Bowling shoes protect you from falling. Lanes are incredibly slippery. You have to be able to glide, fluidly, to keep your ball's momentum at optimum speed. If your shoes stick, this could create some real danger for you. This is why, if you are serious about bowling, performance shoes are the way to go because they offer you a broader base and a firmer fit than any other choice available.
Now that you know where to buy bowling shoes and why it is important to do so, contact the experts at BowlerX.com. You can reach us online or give us a call at 844.269.5379 today.