Congratulations to our longtime staffer, Mike Magolan, who has been hired by Turbo 2-N-1 Grips.
Because his position will involve sales for Turbo, Mike has informed us that he will no longer be able to wear the BowlerX logo. He has, however, promised me that he would still promote us at every chance that he gets and we know that he will.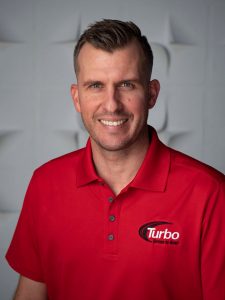 Turbo has made a great choice adding Mike. He has been nothing short of professional in the years we've known him. We thank him for everything that he has done to promote BowlerX.com over the past few years and wish him only the best in his future. Turbo is a great company that just keeps getting better and better. Their staff is second to none and they obviously pride themselves on their staff. Mike will be joining another BowlerX staffer, Andrew Anderson, who Turbo hired just a few weeks ago.It's like TeamX is a breeding ground for talent. 
Official Announcement from Turbo Today (6/20):
Announcement! New Peeps at Turbo HQ! On the heels of the recent Andrew Anderson announcement, Turbo Bowling Accessories is promoting two more into sales and support positions. Brad Martin will replace JR Raymond, who resigned recently as Midwest Region Sales Manager servicing distributors and pro shops in Michigan, Ohio, Indiana, Illinois and Wisconsin. And Mike Magolan will take over inside sales and support for the Central and Western Regions and aid in Digital Media Development.
Martin, who has a degree from Craft College in Michigan, will be working directly with Turbo National Sales Manager Chris Sand, who covered the region for many years before moving into his current job several years ago.
"It's good to find young people who are passionate about the sport," said Sand. "Brad's been an asset in inside sales and support for 3 years so it's a good transition to an outside sales position. We needed a road warrior of sorts and Brad's ambitious and enthusiastic personality is a perfect fit."
"I am very excited to move into this new role," said Martin. "Turbo has great people and products, and I will do my best to increase awareness and sales everywhere I go. I'll continue to bowl where I can and help with coaching at the Turbo Tech Training Center as my schedule allows."
As part of the joint sales partnership agreement between the two companies, Martin will also represent Dexter in the region.
Mike Magolan will take over the inside sales and support position previously held by Martin, and will work closely with Turbo President Lori Mraz to strengthen brand recognition through various social media platforms. He has a degree from Oakland (MI) University and has worked for 13 years as a Training Specialist. He also represents Motiv Bowling as a member of their Pro Staff.
"Mike is a sharp young man and brings great energy to our team," said Mraz. "His enthusiasm and knowledge of the sport will be an asset to our valued retailers and distributors, and utilizing his skills in digital media will continue to reinforce the integrity of Turbo brand throughout the world."
"I have been involved in multiple facets of the bowling industry for quite some time now, but to be able to call Turbo my new home, the place where I work each and every day, is a dream come true," said Magolan. "I plan to focus on increasing brand awareness for Turbo across multiple social media platforms including Facebook, Instagram and YouTube. I am looking toward building an engaged bowling community that looks forward to hearing about the latest developments at Turbo. I cannot express how much it means to me to become a part of the Turbo family."
"Adding Brad and Mike with the addition of Andrew Anderson last week sets us up with a strong young team that can do great things for Turbo, our pro shops and bowling in general." added Sand.
Martin and Magolan are also accomplished and enthusiastic bowlers who have a deep understanding of the sport, and will continue to compete in events that allow them to get better in the sport and spread the good word about Turbo Products along the way. They assume their new roles effective June 24th and July 8th respectively.