Congratulations from all of your teammates at BowlerX!!
The Best Bowler ESPY Award has been presented annually since 1995 to the best ten-pin bowler, irrespective of gender, adjudged to be the best in a given calendar year of those contesting the sport professionally in the United States.  Rhino Page was the 2018 winner breaking Jason Belmonte's streak of three consecutive ESPY's from 2015-18.
This years ESPY's will be presented July 10th at 9PM EST on ESPN.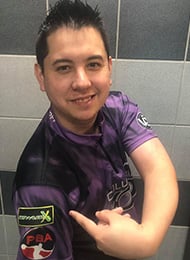 Butturff qualified as the #1 seed for the first two tournaments of the 2019 PBA Tour season, joining Johnny Petraglia, Earl Anthony and Walter Ray Williams Jr. as the only players to be the top qualifier in three consecutive PBA Tour events (going back to the final event of the 2018 season). Butturff lost the title match in the season-opening PBA Hall of Fame classic, but won the PBA Oklahoma Open the following week for his fifth PBA Tour title. He captured his sixth PBA Tour title and first major at the 2019 USBC Masters, qualifying as the #1 seed for the stepladder finals and defeating Mykel Holliman in the championship match for the win.
In addition to his national PBA Tour titles, Butturff has won 21 PBA Regional Tour titles, including a PBA-record nine Regional titles in the 2016 season alone. His 20th title came in just his 59th PBA Regional tournament on January 20, 2019. Of the 38 players to date with at least 20 Regional titles, Butturff is recognized as the youngest (age 24) to reach the plateau.