Display your patriotism or your service status while participating in the greatest sport on Earth with military bowling shirts purchased at BowlerX.com!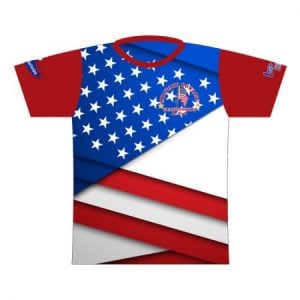 The professional team here at BowlerX.com is ready to answer questions and make recommendations about the purchase and purpose of your bowling attire and other merchandise.
Military Bowling Shirts Available on BowlerX.com
Military Bowling Patriotic Dye-Sublimated Shirt
Military Bowling Army Dye-Sublimated Shirt
Military Bowling Patriotic Grunge Dye-Sublimated Shirt
Military Bowling Patriotic 2 Dye-Sublimated Shirt
Military Bowling Iwo Jima Dye-Sublimated Shirt
BowlerX.com offers shirts for all skill levels and age ranges. Each of these shirts comes in a wide range of sizes including youth, women's and men's sizes up to 6XL, and we provide choice as to neck style. Your shirt's neck can be crew neck, V-neck, sash neck, or polo collar style, as opposed to the old-school button-down variety.
Authorized to sell a wide range of branded bowling merchandise, BowlerX.com is the leading online bowling superstore with a #1 rating for customer service as well as pricing and product knowledge. We're a family-owned company with true knowledge and experience in the bowling world. All that we do is motivated by love of bowling.
Founded in 2010 by Lee Sandt, a PBA member and bowling aficionado, BowlerX.com strives to spread the joy of bowling nationwide. Here, shipping is free, and the inventory numbers more than 2,000. If you're in search of a stand-out bowling-related product, you'll find it here.
Why the Shirt Matters
You may be saying to yourself that the shirt doesn't matter when it comes to bowling, and sure, you can head to the lanes in regular streetwear. But for bowlers who mean business, the look and fit of a genuine bowling shirt has a real impact on the game. Looking the part builds confidence and lends itself to success – regardless of the activity. Enjoy your bowling experience with the confidence to bowl strikes and make social connections.
All bowling shirts are short sleeve and fit well. Sleeves and loose fabric could interfere with the ball release, and a tight fit could restrict the body's movement. A proper bowling shirt will fit comfortably, so we provide hassle-free exchanges when you get the size choice wrong. All that we ask of returns or exchanges is that the products are unused and packaged in a double bag or double box configuration for the return shipment.
Customize the bowling shirts for yourself or your entire team when you buy from BowlerX.com. We make it simple to add names, logos, and other graphics. Your team will enjoy the team feeling that comes from coordinated uniforms and genuine bowling attire, and the crowd will know the right names to cheer throughout the evening.
Bowling shirts must be supremely comfortable, which makes them prime products for streetwear. As shirt designs have evolved, fabrics have come to include the new wicking fabrics common to most athletic wear rather than the original cotton and cotton blends of traditional bowling shirts. Keep cool and unencumbered by uncomfortable clothing with a quality bowling shirt.
Military bowling shirts like those offered on BowlerX.com will make a statement, improve your game, and bring your team together. We're ready and able to help customize your choices and meet your production demands. Explore all of your options by giving us a call at (844) 269-5379.